Let's indulge in something that always remains the talk of the town.
Commonly known as LBD, this acronym needs no introduction whatsoever. If we don't talk about the timeless evolution the classic black dress has gone through, we might be on the dishonest side. From Audrey Hepburn to Princess Diana, every person in the public eye has made sure to dive into this timeless fashion piece.
And why not? It pretty much is the magic element for anyone wanting the onlookers to swoon over their charm.
Here we are going to discuss the best of the best. Let's check out some chic and super impactful types of LBD.
10 – The Best Figure-Hugging Piece:  Balmain's button-embellished ribbed-knit mini dress
This dress is the right blend of Boss lady energy and the most sought-after trend of 2021- knitted dresses.
The shoulder pads being Balmain's statement design, make it stand out even more. Golden buttons on a straight fit and a fancy back zipper add the perfect oomph.
We cannot question the planning and designing of Balmain's top-tier here since you can easily flaunt this dress at any professional gathering or a formal dinner.
As little effort as accessorizing with a clutch bag will make this look even more gorgeous since the dress is topped with a collar, which makes all the difference.
09 – For an Anniversary Dinner or a Formal Wedding Guest Look: Off-shoulder LBD dress
The dress screams party and celebration. This is how you know that you've got the right pick. These ruffled off-shoulder sleeves are proposing the perfect sultry look with a prominent neck.
It is not your classic length LBD, but rather a midi dress, making it a surefire win for any time of the year. You can couple this up with a strappy black sandal and voilà!
08 – A Versatile, Effortless Shirtdress: H&M's short shirtdress
H&M, being a household name, elevates their game every season with the black dresses they offer. We can only expect this kind of cotton weave shirtdress with a pinstripe design to come from them.
This piece illustrates the standard consumers have in mind when they say they want to own something effortlessly contemporary.
The decorating lacing down the shirt and long wide sleeves with an oh-so-chic cuff at the bottom makes this piece perfect for a casual outing with friends.
You can pair it up with a simple white pair of sneakers or a tad more formal setting like an evening soiree, with some heels.
07 – Your Floral Dream Come True: CAMI NYC floral silk black dress
A silk slip dress, that too with a floral pattern, plunging neckline, and delicate straps – an Instagram-worthy inspiration for us is what this LBD is all about.
This dress is perfect for a springtime trip to your neighborhood vineyard. You can even flaunt this on a beach trip with your loved ones and play safe by tying your hair up to make sure the neckline is a showstopper for you.
Wear your favorite comfy wedges and swirl in summertime madness with this flowy garment.
06 – When Comfort Meets Trend: GUCCI sequin-adorned pointelle-knit dress
An openwork design, commonly referred to as; the pointelle-knit dress is undoubtedly a sight for sore eyes.
Gucci's Alessandro Michele has yet again outdone himself by designing this outfit with ample touch of femininity. Femininity and that together with black is not everyone's cup of tea, because of the diversity this color is believed to have
He indeed proved to be a one-person show on this piece. His move of adding a collar to balance a pointelle-knit wool mini dress with a fabric lace paid off.
The collar is a work of art because if you dive deep, you'll notice it has a bit miniature lace to it. Plus, it has corners that meet at the front – which we all know as Peter Pan style.
How do we know it is the perfect dress for your wardrobe? That is because it's a forever-abiding find.
05 – Bring On The Bling: GIVENCHY cutout crepe dress
They say, 'Dress how you want to be addressed'- all I can say is, Givenchy stayed true to this vision. This outfit made from crepe and an embellished racerback is a head-turner for sure. Leave it to us to help you fall in love with it.
This dress can come to your rescue on a date night or a red-carpet event when all you want is paparazzi not to stop clicking photos of you.
It can also be a great asset if you are bored of attending a corporate meeting in tuxedos and uncomfortable designs.
Be it colleagues complimenting you or fashion critics enthralled by your fashion sense-it is a win-win situation to style it as yours.
The studs on the back do all the talking for the plain black body of the dress.
Pair it up with classic black stilettos and a glistening ring.
04 – Not Your Basic Activewear: The exercise dress (quite basic but effective)
Times have changed, and now, more than ever- there is a massive influx of brands introducing their activewear. We can say that the lockdown mandates hitting us in recent times have indeed changed how we view fitness.
Home-based workouts have now become a need-with most of us having fewer activities to make us stay active in lockdowns. Furthermore, who doesn't need an extra push of motivation to get their life back together?
This sporty, practical, and made from lightspeed fabric is a keeper. The shorts are customized with pockets- we haven't seen something this cool for a while.
The breathable material will wick moisture away from your body, keeping you focused for a longer duration of time.
You might save up some money by deciding to do your routine workout in your good old comfortable leggings, but trust us when we say that you won't feel as confident in those leggings next time.
Human motivation to perform well in any field of interest is driven by various external factors, and clothes being one of them.
The figure-hugging fit makes squat 10x easier. On the other hand, we won't stop mentioning the supremacy of adjustable straps over the non-adjustable itchy ones. This makes putting the dress on and taking it off so much easier.
Basic Black color with no unnecessary detailing gives it an extra ten points. Do yourself a favor and get this because nothing feels as good as investing in your fitness aspirations.
A survey conducted in Mexico in 2016 shows- '80% of respondents utilized their sportswear, for purposes other than exercise. This might convince you that you can always repurpose a good-fitting dress.'
03 – A Heirloom Pick:  L'Agence Lorraine's flowy dress
Designed for times when gossiping or being around nosy relatives drains you out.
We think there are several events where you can flaunt it- a kitty party, birthdays, and bridal showers. The loose fit makes you feel carefree since you won't have to worry about the fit at times when you are out of shape.
Poppy flowers (have a black center), if used to style hair, will be a great idea- They'll add the perfect red and black combo to your look. Something we'll approve, hands-down.
The asymmetric hem highlights this flowy dress and adds on some intricate detail to an otherwise minimalistic piece.
Throw on a silver necklace to enhance the beauty bone-the sole purpose of a deep v neck. It ticks all the boxes for an heirloom piece, and we assure you this is a timeless appeal.
02 – Black Halo: LIKELY Alia dress
Ruffled sleeves are all the rage in 2021, so why would you not pick this one? Nothing as compelling as ruffled sleeves on a black dress for us.
Furthermore, a plain round neck with the perfect fit at the bust- Can it get any sexier? Plus, the flare at the hemline is a cherry on top.
Therefore; hold your head up high and conquer what you may with this by your side.
01 – A Stand-out Fit: Jessica Howard ruffle-neck party dress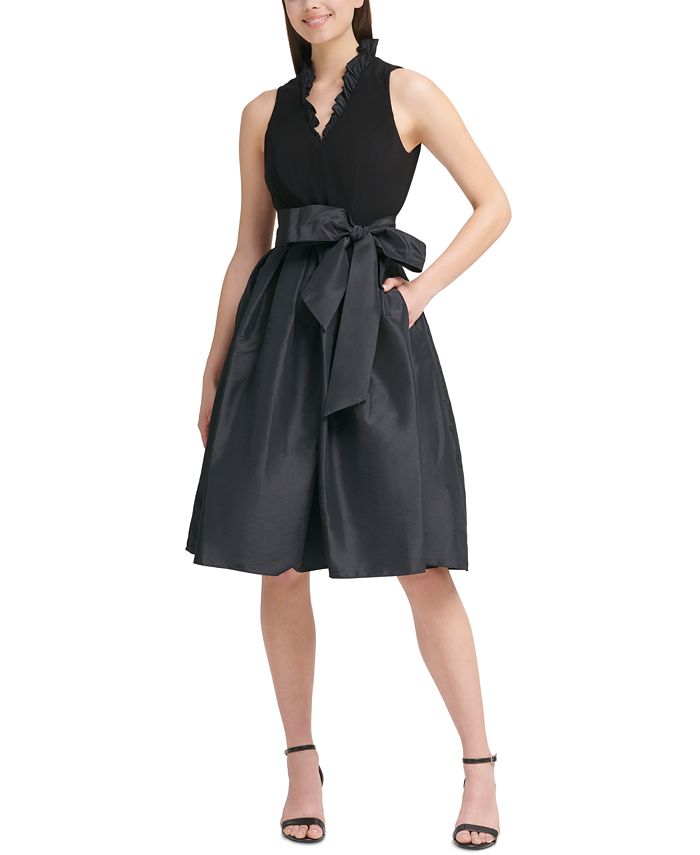 A bow with some pockets? Hell yes! This is a night-out dress for sure, but that too on a special occasion. I haven't seen anything so premium and modest throughout this search.
Stand out in this dress with a pointed-toe pump and some hoop earrings. This dress is worthy for you to go for it – (run)
This not very short dress, with a flounce hemline, makes us feel delighted-for bringing it to your notice.
Conclusion
Our top picks cater to you, on different occasions and for different body types, which dresses mentioned above excite you the most? Check out Bellebarnett's latest collection of LBD and discover your own style now!
Read More
10 Breathtaking Looks of Female Stars in 2021